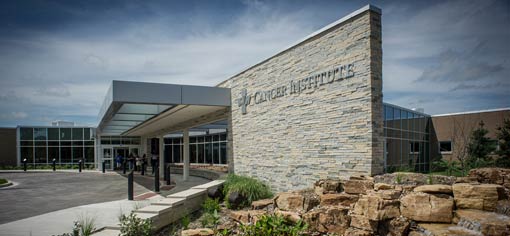 Saluki Athletics is teaming up with the SIH Foundation for the Salukis Blackout Cancer Football game. The SIH Foundation continues to lead fundraising efforts to support the SIH Cancer Institute.
Through the creation of a comprehensive cancer center, we are helping patients and their families remain close to home and providing quality state-of-the-art care. 
The SIH Cancer Institute:
Helped over 1000 new patients in 2017
Added 6 more infusion treatment spaces
Over a 30% growth in the first year
Began review of expansion needs
Surgical and treatment advancements
Projected trends indicate that incidence rates of all-cancer will increase by a staggering 45% over the next twenty years.  This represents a substantial number of patients enduring the hardships of their accessing care away from home and family.  As a result, SIH is committed to providing quality cancer care in southern Illinois.
Rarely in our lives do we have a chance to make such a meaningful contribution to our community.
Did You Know Southern Illinois Healthcare is Not-for-profit?
As a not-for-profit organization, Southern Illinois Healthcare relies on the generosity of the community to help us continue to make high-quality health care accessible to those who live and work in our service area.
About the SIH Foundation
The SIH Foundation is the charitable arm of Southern Illinois Healthcare and was established to receive philanthropic gifts on behalf of Herrin Hospital, Memorial Hospital of Carbondale and St. Joseph Memorial Hospital of Murphysboro. The funds raised are used to enhance and support the SIH mission of improving the health and well being of all the people in the communities we serve.
What sets us apart is our commitment to direct 100% of your gift/donation to the charitable area you designate. The SIH Foundation does not take out any administrative fees from your gift. Learn more about the SIH Foundation.
If you have additional questions, please contact Tanna Morgan at 618.457.5200 ext. 67843 or tanna.morgan@sih.net.  Thank you for your support!