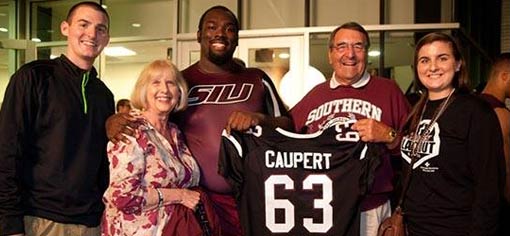 The SIU Saluki football team will be wearing special black Under Armour® jerseys that will only be worn once specifically for the Salukis Blackout Cancer game on Saturday, September 30, 2017.  The jerseys will be very similar to the traditional Saluki maroon and white uniforms with embroidered numbers, logos and letters.  The jerseys will sport the official logos of the Salukis, Under Armour® and Missouri Valley Football Conference.   
Jersey Rules
Only 77 jerseys will be available for bidding.
Jersey numbers will be chosen starting with the highest bidder and descending to the lowest bidder.
The jersey name can only include first initial/last name, last name/first initial or first name or last name only.  NO BUSINESS names are allowed (ie. cannot use Piper Construction but can use Piper) and you cannot use any special characters other than a period.  Only 15 spaces are allowed (more spaces are allowed but font will be smaller)
When you create your account please include the name you want on the back of the jersey and the top 5 numbers in order of preference to make the process more efficient.
If one of your 5 numbers are available we will assign that number and send you a confirmation email.  If your number is not available, we will contact you to pick a new jersey number.  You will be contacted via phone, email and text.  If we have not heard from you within 30 minutes we will move on to the next bidder.  When you call back after the 30 minute time frame you will select from the numbers available at that time.
SPECIAL NOTE:  IF YOU ARE A RELATIVE OF A PLAYER ON THE TEAM, YOU ARE NOT GUARANTEED THEIR NUMBER IF A HIGHER BIDDER CHOOSES THAT NUMBER BEFORE YOU.
Before the game:  Winning bidders will need to check in at the SIH Foundation table at the North entrance of Saluki Stadium.  You will receive a lanyard with your jersey number and further instructions.
During the game:  Winning bidders will be invited to walk on to the field at half-time and be recognized by the fans in attendance.  Winners will meet on the lower level by the North end entrance at the SIH Foundation tent 3 minutes before half-time.
After the game: Winning bidders will meet by the stairs across from the North end entrance and you will have the opportunity to meet the player wearing your jersey and to receive the jersey.  When the players come out, we ask that you move to the sidewalk or grass area for pictures.  A professional photo station will be available if you are interested.  This is a great time for a photo to commemorate the event.
Click on the "Login & Bid" button to start bidding.
If you have additional questions, please contact Paula Frisch at 618.457.5200 ext. 67013 or paula.frisch@sih.net.  Thank you for your support!